Team Alba Racing -
Drive / Suspension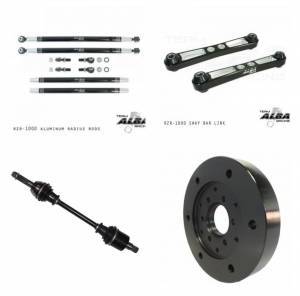 Browse Drive / Suspension
Products
Description:
Alba Racing Clutch cover quick release pin kit. Fits all years and models of RZR XPT / RZR TURBO models (Does not fit RZR PRO Models) This kit uses 9 clips and 9 pins for full...
More Details »
Description:
"Crusher Lite" wheels are made from Heat Treated 6061-T6 Spun Aluminum. They feature billet CNC machined 6061-T6 centers. These are the strongest sand billet wheel on the UTV market but...
More Details »
Description:
STOP replacing your wheel studs – upgrade to ARP! If you're racing your RZR UTV's, then you've probably had wheel stud problems. The OEM wheel studs just weren't designed for extreme...
More Details »
Sold per wheel. Select QTY-4 if you need them for a complete vehicle