Rahders earns 2nd Place at Lucas Oil Off Road Series! Congratulations......again!!!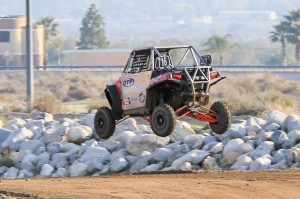 Race Report in for Cody Rahders-----Talk about last minute! Cody recently got to show his skills at the Lucas Oil Off Road Series...and the decision to race was completely last minute! Here's the report from Cody's dad:
Cody Rahders and the R3motorsports crew took advantage of a last minute opportunity to race a Polaris XP900 and put it on the podium at Round 1 of the Lucas Oil Regional Off Road Racing Series.
It started as a passing comment from JoeyD of the UTVunderground to race one of the Camp RZR XPs from Polariss New Year bash, the idea grew and thanks to the crew at Magnum Offroad, they took a box stock RZR XP and turned out a race legal build in just three days.
The XP was picked up from Magnum Offroad at3:30 on Friday afternoon, the car was so fresh the welds were still hot. Next stop was ITP Tires to pick up some fresh rubber and it was off to Glen Helen.
After Cody received his 2012 SuperLite Regionals Championship Trophy the crew spent the rest of the night building wheels. Then at first light the ITP wheels/tires along with new Fox Podium Shox, Alba exhaust, K&N Intake, RacerX communications, restraints, numbers, and decals were all installed, the car was techd, and it was time to qualify.
To this point Cody had spent just one afternoon in the desert driving an XP shooting a tv commercial for Fox Shox so going out on track was a new experience. For the qualifier Cody lined up in approximately 15th and in 6 laps finished in 5th.
When the green flew for the main patience was the best plan as attrition would come into play, then once the field cleared itself Cody would restart from 3rd place at the mid race caution.
At the restart Cody spent two laps getting around 2nd then went after the leader however as the laps wore down he was unable to make much progress and ultimately finished out the main in 2nd place.
We took a stock car that one day ago I had never seen before, Magnum built it out, we bolted on some go fast parts, and finished 2nd, Im happy with that! Said Cody after the race. Now that we actually have some time to tune I cant wait for round 2!
Cody Rahders and R3motorsports would like to thank all our sponsors their support.
Polaris, Magnum Offroad, JoeyD and theUTVunderground.com, Monster Energy, Fox Racing Shocks, Team Alba Racing, ITP Tires, Superchips, K&N Filters, Black Rhino, RacerX Motorsports, Lucas Oil, K1 Race Gear, Cognito Motorsports,SFI Design, Toyo Tires, American Star Racing, Frosty Burger Pine Valley, PAC Springs, TSW Electric, and our crew Nick Novak, Kevin Sullivan, and Troy Patterson.
Next Race, WORCS.March 23at Lake Havasu.