Rahders takes 2nd at WORCS, Round 2
CONGRATULATIONS TO CODY RAHDERS. We just received the race report from WORCS, round 2. Here is the report written by Doug Rahders, Cody Rahder's father: Cody Rahders took second place at round two of WORCS in the Production 700 class and finished second overall out of the 23 entries in Production 850/700/600/Sportsman classes combined. With all the classes lined up Cody started in row three and rounded the first turn in third place. Within the first mile he moved into second and by the beginning of lap two he moved into first. From there he went to work on the 13 vehicles in the 850 class. As Cody came through for the start of lap four he was on top of the third place car in Production 850 with second place of Production 700 right behind the both of them.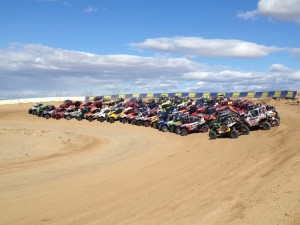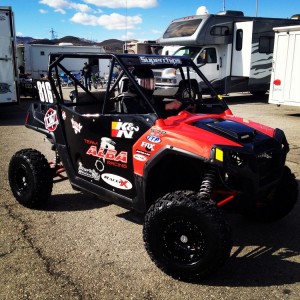 Most of the dessert section is really one lined. I had to jump out of the race line to pass some slower guys but that 3rd place car blocked me every time I tried to pass, even when I went off line! He drove the entire lap in his mirror so I decided were putting a great big bumper on the new car and showem how Robby (Gordon) does it when they wont move over (Laughter) The three cars entered the infield section of the course, Cody moved left to pass the 850 class car and the 850 car cut over on him hard enough that Cody had to get on the brakes and both were passed by the second place 700 class car. Once Cody passed the third place 850 class car he would eventually pass both the second and first place in Production 850 but the damage was done and he finished second place in class and overall. Our race engine was ruined from all the water that went through it at Round 1 so we decided since there was a chance of rain at Round 2 we didn't want to risk it with our new RZR570 so we would put the red cars engine back to stock and ran it one more race. I drove it wide open nearly 100% of the race, its been a great car but well have the new car out for Round 3 at Havasu, I cant wait! Cody Rahders and R3motorsports would like to thank the following for their help. Polaris Industries, Superchips,
Team Alba Racing
, Cognito Motorsports, K&N, Fox Racing Shox, the
UTVunderground.com
, ITP Tires, K1 Race Gear, Black Rhino, RacerX Motorsports, American Star Racing, SFI Designs, Frosty Burger Pine Valley.