Driving in the Baja 1000
A great account of SCORE 2012 by Greg Row
Greg Row drove his RZR XP900 in the recent SCORE Baja 1000. We really like this account which helps you live the ride through his eyes. Despite a DNF, Greg had a great ride and has plans to go for it again next year. Greg was getting 75 mph in the dirt. "It ripped!" Want to know what it is like to drive in this race? Check this out.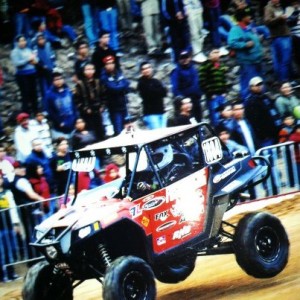 Baja 1000 race report!!! So bummed we didn't finish let alone win! Thanks to Black Rhino, Fusion Racing,
Alba
Racing
, Maxima Oils, RacerX, DWT, Maxxis, Summers Bros, UNI, Elka,Fox, factory UTV, RND Motorsports and co drivers Ryan Piplic, Dave Nagy and Michael Gonzales for their efforts. Trevor Smith from Fusion built the Baddest UTV on the line, Alba racing built the motor that was unbelievable,Black Rhino and Racer X had radio and Gps so dialed I could have driven blind. Again so bummed we came up short!!! Heres how it went down. I started 4 th and told myself I wasn't racing anybody but the Baja course itself!!! Little did I know how quickly I would catch and pass the first 3 UTVs, after passing 1803 before leaving the pavement with my XP on rails doing about 75 I caught 1801 and 1802 nose to tail with each other. Pretty heavy dust so I backed her down and waited for the right opportunity for a clean pass, we hit a hard packed dust free road and I out braked 1801 into a left hand turn pulling right up on the bumper of 1802, 2 turns later there was an either or trail, he took the either and I passed him on the or!! My heart was pounding, clean air and no one left to pass or so I thought, for the next 3 miles it was clear sailing, then I caught a 1400 car, got on the horn and dogged him for about a mile, guy was clueless, time to give him a love tap and let him know I'm here, hit him a little harder than I should have and he pulled right over. Made a few more passes on class 15, and 8 vehicles, and coming in to Ojos trophy trucks stuck in the silt beds, came into Ojos with a 6 min lead, with a little drizzle coming down made for less dust catching the vehicles, passed a class 5 wide open just before the rollers and set my sight on the Speed 1549 truck and 800 truck. Still was in awe of how fast this XP was, not just top speed but out of the corner speed, I reeled the speed truck in a put a pass on him and pulled right up to the class 8, he was blocking bad, I knew a high line in the wash was coming up and checked up so I could sling shot around him on the outside, was the raddest pass ever, guy had to shit himself as I flew by, from there I caught more, 5,11 and 14 cars, and I felt like I wasn't even pushing hard. Came into K77 with an 8 min lead, had my awesome pit crew of Josh, Schwick, Kevin Avina and thrillon t dillon do a once over on the car and back on track. Came into Valley T with a 12 min lead but had 1 problem a broken wheel stud, decided to change the hub, lost about 15 mins and the lead but more important to make the change, caught the 2 UTVs that got by me heading into San Felipe, this is were I really took it easy, was battling for the lead at 14 mph in 3 foot whoops, funny!! Old puerticitos road was brutal, 15 mph for 20 miles, came out on the pavement with the lead and at the 280 mile mark had a 30 mile lead, knew I had to take easy once I made it to the turn off to the wash just above el crucero, got into the wash that was like a tropical oasis, wet muddy and single track, and just my luck I could feel the right rear was flat but praying the tire blocks could hold up for another 30 miles, just then a trophy truck was broke and no place to pass 8 foot wide tight ass wash with 4 foot walls!! Are you frigken kidding me, guy yells you gotta back up, memo to me put a light on for reverse!!!! I couldn't see shit trying to back outta this snaky little wash and I keep hitting a rock on the right side rear pulling forward and trying to get around it, I finally out of desperation pull forward take of my belts and turned my head around put it to the wood cleared the rock and got thrown side ways. Seriously ! 1 foot in front of me and 1 foot behind me to 3 to 4 foot walls, well let's see what this thing can do put in low and climd straight up let off and roll back did that a couple times and got turned around, went backward for 100 yards and picked another finger in the wash, right rear was now hammered, was hearing clunking on that side now and knew I had to stop and change it but had to get out of the swamp first, as soon as I climbed out of the wash found a pit with some locals and they pushed the XP on it's side and helped me change the tire. Pounded on the other 3 tires and they were good they said 15 miles to el crucero, as I took off I yelled Viva la Mexico and thought I could limp into the pit. Made it 5 miles and started to feel the left side rear feel weird got out and had 3 broken lugs only 1 stud left, again, are u fricken kidding me, took 30 mins to make the change to the other hub with 1 broken stud and said my prayers as I tried to limp in the next 10 miles, doing about 10 mph and 2 miles from the pit the left gave way again. I thought about driving it in but didn't want to do more damage. Looks like it's time for a midnight hike into the pits, I could see the lights from the pits and started off, 30 mins of hiking and 1806 went by, made it to the pits grabbed another hub and my dad, Ryan and I hiked out to do repairs, got her into the pits and took an hr and a half to get back to race ready, 15 mins before we took off 1805 came in and left. Ryan was on Rails, caught 1805 before bay of la. And came into Visciano way before I expected. Just missed him as he crossed the high way and that was probably our down fall, she needed a new filter, belt and some tlc before heading into the silt beds from hell, after going through several of them the silt dried out the pre filter and main filter and took out the motor, she didn't quit, just would only do 25 mph backfiring and sputtering!!!! Dam, with some bigger wheel studs and better filter system she would have finished and possibly won. Marco Gonzales and Dave Nagy put it best, we will be back next year, we have unfinished business with the XP, and rather than just winning 1 race we are going to win the championship.