HOLE SHOT, FIRST PLACE AND A 3RD PLACE OVERALL FOR CODY!
CODY RAHDERS IS NOW TIED FOR FIRST PLACE IN POINTS. HE IS DRIVING AN ALBA POWERED RZR 570. BIG CONGRATS FOR HIS HARDWORK.
Race Report sent in by Doug Rahders.
Cody Rahders and his Polaris Industries/Cognito Motorsports/UTVunderground.com RZR570 made the 480 mile trek to the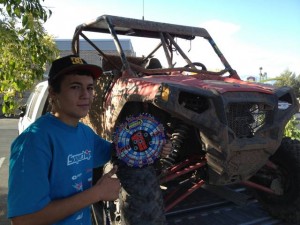 Edge Raceway located outside of St. George Utah and flat out dominated the Production 700 class. The field was allowed to take a sight lap of the new facility prior to racing and when Cody returned he stated I love this place, If I can get the hole shot I can win it. 21 competitors lined up in three rows for the start of the combined Production 700/850 race and when the green flag flew for the 700s Cody pulled the hole shot and left the rest of the class to fight over second place. Alba Racing dynod my car right before we left, we made a couple of tweaks to the motor and tried a new exhaust from American Star. I wasnt sure how it would work at the elevation we were at (5700 feet) but the motor got me out front so fast I thought I jumped the start at first. By the end of lap one Cody had nine seconds on second place. By the end of lap two that lead grew to 20 and lap three 35. However, on lap four he ran into trouble with a competitor in the 850 class. I was getting through the pack clean then I got caught up behind an 850 class car. WORCS told us earlier in the year no nerfing, put a horn on your car and use that instead. I used my horn so much it quit. That guy was driving a wide car and I couldnt get around clean so when I finally had a chance I passed him and made sure it stuck (laughter).
YEAH...
WE LIKE IT! (COMMENTS BY ALBA RACING)
On lap five and clear of traffic Cody chased after the leaders whereby the end of the race on lap six he finished 1:11 ahead of second place in Production 700 and 19 seconds behind the Production 850 winner physically finishing 3rd overall in the combined 700/850 classes. If I wouldnt have got caught up behind that 850 maybe I could have had the overall win, I knew I was close. My Alba motor was running awesome, Cognito Motorsports/Fox Shox have my suspension dialed, my ITP tires hooked up, and the 570.it took it. Rocks, water, dust, traffic, I can beat that thing to death and it just runs. What a great car. With this win Cody now sits tied for first place in points. Cody Rahders Racing and R3motorsports would like to thank the following for their support. Polaris Industrier Cognito Motorsports
UTVunderground.com
JoeyD Team Alba Racing Fox Racing Shox Pro Armor Black Rhino Performance American Star Mystik lubricants Benchmark Performance RacerX motorsprots Superchips K&N Diffenbaught Construction Frosty Burger