Graves takes first in Sportsman UTV class and 2nd Overall at San Felipe 250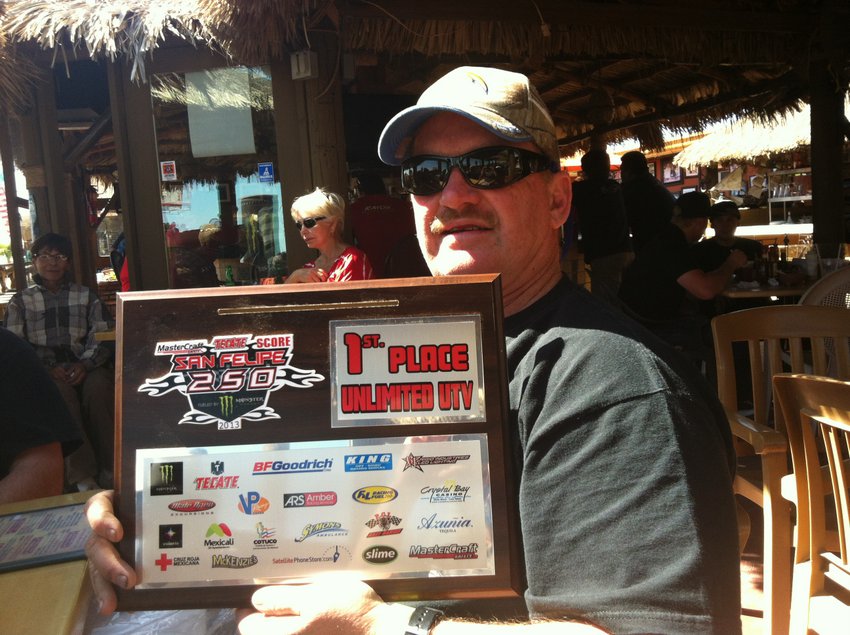 Rhino 660 earns first and 2nd overall
At the start of the 2013 SCORE Series Team Alba Racing's Tom Graves' Yamaha Rhino looked seriously underpowered among the growing crowd of UTV racers. Being the only single cylinder less than 700cc machine many thought that there was no chance it could even be competitive. Being surrounded by Can-Am Mavericks, Polaris RZR 900XPs, and Arctic Cat Wildcats we knew we had to have a clean run on the shortest race of the series.
With the new Pro Class starting before us we had a late start time of just after noon. Emmanuel headed to Zoo road for a quick visual inspection on the Rhino at race mile 7 when Tom drove by and Co-driver Rich Morel and I headed to our first pit stop and driver change at Race mile 38 which was the first crossing of Highway 3. After the first Pro Class UTV came through Rich began to suit up for his 106 mile run in the Rhino. To our surprise Tom came in to the pit way earlier than expected showing 3rd overall at the time. After 5 gallons of gas, a quick visual inspection of all CVs and tires and strapping Rich in the car he was off. With our new JBS sheave the Rhino jumped up to speed faster than ever and was charging towards the north loop section.
Tom and I remained at race mile 38 to stay in radio contact with Rich as long as possible. While waiting we saw more UTVs trickling through. Glazzkraft driver Alonso Lopez came in shortly with the left front a-arm of his car already torn off and with Hector Jimenez's help he was quickly welded back up with a new ball joint installed and back in the race. After the chaos Tom and I headed west on Highway 3 to head to the second road crossing at race mile 144 where Rich would get out of the car and Tom would get back in for the final leg of the race.
As Rich got close to us and came back in radio contact with us we found out he had another flat at race mile 134, but was pushing hard coming into race mile 144. When Rich came in we quickly splashed 10 gallons of fuel and changed the air filter on the car, but as Tom pulled away from us at the pit we noticed a low left rear tire. We decided to radio both Tom and Emmanuel and have them change it out at Morelia Junction race mile 172. Waiting next to us at the pit were both Dave Nagy of Alba's Pro class UTV #1911 and David Nueber's #1963 Sportsman Class Polaris RZR900 XP, so we knew it had to be a tight race. Shortly thereafter the #1963 of Nueber came in and was back out hot on our tail and unfortunately shortly after Greg Row limped in on the highway missing one front axle from a contact incident earlier with another car and a broken rear CV to finish their day.
Rich and I then tore ass down towards the south end of San Felipe and the airport for a final visual and emergency gas pit if necessary at race mile 246. By this time it was well into the night and dark and Rich and I got a bit lost on the side roads south of town. Finally we find the correct dirt road that leads us to the course, but it starts getting pretty soft. About a ¼ mile from what we think is the course it gets pretty sandy and we quickly call in Emmanuel with the 4wd truck to try and get to the course. Emmanuel comes past us in the 4wd, but went too far south beyond where we wanted to be and just then Tom gets on the radio saying he needs another tire, so Rich and I say screw it and hammer down in the sand trying to make it to the course. Thankfully we make it within about 100 feet of the course and get back on the radio with Tom to inform him of where we were. After a bit of back and forth we determine that he had already changed the tire at race mile 234 and just wanted a new back up spare. With an update coming via text message from the US we find out that Nueber in the #1963 Polaris is within 2 minutes of us and putting the pressure on. We get back on the radio with Tom and tell him HELL NO on the stop for a fresh spare. Either he pushes it and hopefully we don't get another flat in the last miles or we lose our lead. Tom comes past us in the wash and is looking fast and within minutes the #1963 of Nueber comes past after him. Rich and I jump back in the truck to try and follow him back to the finish line, but the truck was buried to the axle in the rear and we weren't going anywhere. A few minutes later Emmanuel shows up to save us and we are back underway and headed into town. Unfortunately we did not make it back to town in time to see Tom cross the finish line, but we were informed he crossed without a tire incident in the last miles.
With the first race of the 2013 SCORE Series completed we were amazed to find out that not only did we win the Sportsman UTV Class, but also finished 2nd overall to Matt Parks and the Factory Polaris backed Team JaggedX RZR 900 XP #1932. If it weren't for 3 flats, a fuel filter change, and an air filter change we may have been able to go door to door with the Jagged X car. I will add though that after a grueling 250 mile race it came down to a close 2 ½ minute gap between us and the #1963 of David Nueber. Talk about an exciting race. We would like to thank all who were involved and helped in our program; Team Alba Racing and Rich Morel for all the time and effort, Web Camshafts for their reliable and proven valve train, CP/Carrillo for the ultra strong piston and rod, MSD Ignition for keeping detonation at bay and the motor alive, JBS Hotrod Sheaves for that extra power and instant RPM to keep us on top of the silt and up to speed, ITP for the tires, Sunoco Fuels, and Slime. As attrition racers we are always counting on the miles to give us a chance to catch up, but with a strong 1st place finish at the shortest race of the series we are excited to get prepped for the 500 to show once again that the underdogs in the little old Yamaha Rhino 660 still have what it takes to compete with the big name, newer cars. See you all at the 500!
Nate Martinez
Chase
Team Alba Racing