Team Alba Racing -
Drive and Suspension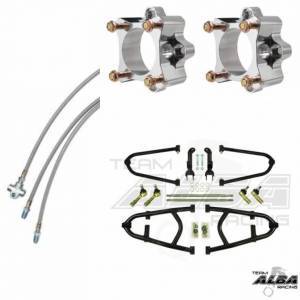 Browse Drive and Suspension
Products
Description:
Alba Racing Billet Parking Brake Block off -Eliminates the parking brake (used for racing only). -Mounting hardware is included. -Manufactured from billet aluminum. -Polished then anodized...
More Details »
Updated 11/28/23
Black and Blue Out of stock
Description:
For your sport ATV (Honda, Kawasaki, Yamaha, Suzuki, Arctic Cat and Polaris) This is for aftermarket brake lines only. It holds the brake lines to the A-arms. o Alba Racing brake line clamps...
More Details »
Updated 11/29/23
Red, Orange, Silver, and Green Clamps out of stock
Free Ground Shipping
Description:
Save weight! - Alba spacers weigh 2.2 lbs each. The competitions weigh 3.2 lbs each Each spacer is machined from billet aluminum Anodized finish gives the aluminum extra protection from...
More Details »
Not Available
Updated 11/15/23
4/110 4/156 Out of Stock
Free Ground Shipping