Team Alba Racing -
Exhaust/Fuel/Air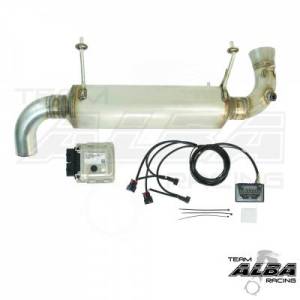 Browse Exhaust/Fuel/Air
Products
Description:
Correct your air fuel ratio with our fuel controller. Features: -Simple plug in installation takes about 5 minutes. -Alba pre-installed base maps. Read below for more info. -We richen the...
More Details »
Special Order ONLY NOT FOR SALE IN CALIFORNIA. This product can not be sold or shipped to California as it is not emissions leg
Free Ground Shipping
Description:
The new muffler for the Polaris RZR 800 is an incredible 5 decibels (dB) quieter on SAE J1287 stationary test @ 3300 RPM than stock while providing 41% increase in airflow (20 more cfm) for more...
More Details »