Team Alba Racing -
TRX400EX/400X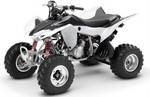 Select a Sub-Category
TRX400EX/400X
Featured Products
NEW!
Description:
Alba SWAG Black Ice inspired Alba Logo (Double Sided) Car or Gear Bag Air Freshener Long Lasting SCENT
Description:
-Bushings for our Long travel and standard travel arms (sizes 19.9, 19.6 and 19.3) -Heavy Duty Ball joint boots Please measure the ID of pivot mount on your arms to get your bushing size.
ALL YAMAHA'S USE OEM STEEL SLEEVES, WE DO NOT SELL THEM!
Please measure the ID of pivot mount on your arms to get yo