KAYLA SMITH EARNS 2ND PLACE AT UTAH WORCS RACE
KAYLA PUSHES HER RHINO 700 THROUGH SOME CRAZY TERRAIN AND TAKES 2ND AT WORCS RACE, ROUND # 6!
Report send to Alba Racing by Team Kayla Smith.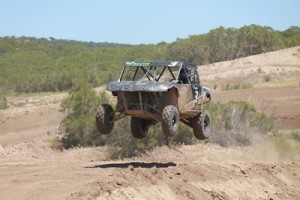 TEAM KAYLA SMITH RACE REPORT WORCS, ROUND 6, 2012 CENTRAL, UTAH IT WAS HOT AND DUSTY AT THE ON THE EDGE RACEWAY IN CENTRAL, UTAH WHERE KAYLA SMITH PUSHED HARD IN HER GBC, ALBA RACING ENGINES, SUMMERS BROTHERS, AND OFF ROAD WAREHOUSE SPONSORED RHINO. THE TRACK WAS ROUGH AND ROCKY WITH MULTIPLE WATER CROSSINGS AND SILT BEDS WHICH MADE FOR A LOT OF BROKEN RIMS AND FLAT TIRES, BUT KAYLA WAS DETERMINED TO PUT HER #3 RHINO BACK ON THE BOX. DESPITE THE CHALLENGING TERRAIN, KAYLA DROVE SMOOTH AND SOLID, EARNING HER THE 2ND PLACE FINISH IN 700 PRODUCTION AND 6TH OVERALL. WE WOULD LIKE TO THANK ALL OF OUR SPONSORS WHO HAVE HELPED GET US TO WHERE WE ARE: GBC TIRES- WHOSE DIRT COMMANDERS HELD UP PERFECTLY TO THE BRUTAL CONDITIONS OF THIS TRACK! OFF ROAD WAREHOUSE ALBA RACING ENGINES SUMMERS BROTHERS AXLES PRP SEATS 747INK AND ALL OF OUR FAMILY AND CREW MEMBERS. THANK YOU ALL FOR WORKING SO HARD TO KEEP KAYLA RUNNING STRONG TEAM KAYLA SMITH #3 PRODUCTION 700
Reader Comments (1)
shawn
08/24/17 09:33:25 AM
I should admit I have flown in a read a decent number of your blogs yet I have no clue how to post a response over yonder, so I'll disclose to you know how great men winter jackets you are at exposing the stuff you are at, I should admit I think that its clever to read your blogging. For more writing information you can refer this from the online writing services.
Post Comment
You must login to post comments.