Dyno Tuning to get it right....
Why we use a Dyno...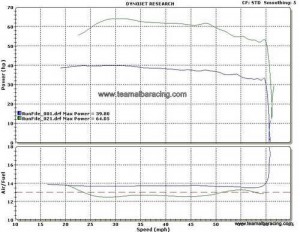 We see so many individuals spend their life savings on building the motor of their dreams, but then fall short when it comes to tuning. Remember that no tw
o bikes are identical and the only way to extract every possible horsepower from your dream build is to use a dyno to properly set your air fuel ratio and timing settings. With an exhaust gas analyzer we at Alba Racing are able to dial in the air fuel ratio of just about any fuel including E85 builds. A proper air fuel ratio not only guarantees maximum horsepower, but also ensures the smoothest curve of power engagement. Alba Racing tunes just about anything that will fit on our dyno. Over the years we have built relationships with companies such as MSD, Dobeck, and PowerCommander. We build base maps that are included from MSD and Dobeck in production fuel and ignition control systems. Choosing a map from a list of others that seem to work will probably get you close, but race winning maps are always specifically built for that unit. When it comes time to tune your next beast why not take the guess work out of it and bring it to Alba Racing to dial in your setup? Dont feel left out if your vehicle isnt fuel injected. We can also tune anything with a carburetor. We stock thousands of jets from Mikuni, Keihin, and Dynojet which will usually save you from purchasing an expensive jet kit. Our favorite carb is the Keihin FCR which we can make run on just about anything including E85, gas, or even alcohol. Our lead technician has been tuning carbs for 20 years and with Albas tools and his knowledge you are assured a top tune. Still have questions? Call us at 858-413-2598 Nate Martinez--Performance Advisor See video
http://youtu.be/YJDDZ5NmLMc
Reader Comments (0)
Post Comment
You must login to post comments.