Cody Rahder's Alba powered RZR 570 wins WORCS Production 700 Class Championship
CODY RAHDERS - Another Holeshot in race #8 and High points = Production 700 Class Champion!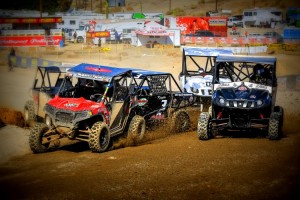 9/17/12 Alba Racing is happy to share this race report about WORCS race # 8 and Cody's major win--WORCS Production 700 Class Champion! Cody is definitely showing his skill at the important Holeshot! (nice pic). Congratulations, Cody!!! Doug's report follows: Cody Rahders and the Polaris Industies Cognito MotorsportsUTVunderground RZR570 Wins Production 700 Class Championship at WORCS Going into Round 8 of WORCS Cody Rahders had gone from fourth place early in the series to leading the points chase by eight going into the final round. With Cody in the only 570 on the line amongst 6 Rhinos the last race of the series was not going to be easy. The green flag flew and Cody got the holeshot only to be passed two turns later Kayla (Smith) doubled a jump I rolled but I needed to play it safe and think title. He then stuck to her rear bumper waiting for a mistake when something let go in the rear. I knew a place to try a re-pass for the lead so when I was setting up for it I landed weird off a jump, was on the gas a little too much and something broke. With the 570 now driving in 3 wheel drive and needing to finish fourth place or better to secure the championship Cody let the leaders go and went into survival mode. He maintained a steady pace and finished out the race in 3rd place in class and the 2012 Production 700 class champion! What a season, to go from fourth in points to winning the title, awesome. There is no way we could have done it without our sponsors, thanks everyone! Cody and R3motorsports would like to thank everyone that helped us with the RZR570 this season. Polaris Industries-the RZR570! Cognito Motorsports JoeyDutvundergrounddotcom Superchips Team Alba Racing Fox Racing Shox K&N Black Rhino Performance Toyo Tires American Star Racing RacerX Motorsports SFI Designs & Fabrication Benchmark Performance SuperLite Championship Frosty Burger Pine Valley Diffenbaugh Construction Wholesale Fuels Mystik Lubricants ProArmor JDMfotos Troy Patterson and mom and dad! Thanks! Doug Rahders _R3motorsports_
Reader Comments (2)
Boys like to take part in car racing competition. According to purchase custom papers online there are special vehicles which are perfectly designed for race. These cars have fast speed and cover large distance easily. Boys can drive these cars easily and try to win the competition.
Thanks a bunch for sharing this post. I'm glad to find your post. Keep sharing!! Have a super fabulous day!!!
accounting assignment help
Post Comment
You must login to post comments.