Congrats to Cody Rahders! First place at WORCS
Cody Rahders wins Production 700 Class!!!
(report sent by Cody) AZ. WORCS Round 4.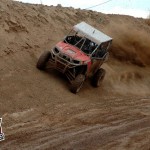 The Polaris Industries/CognitoMotorsports/UTVunderground.comRZR570 piloted by Superchips driver Cody Rahders came away from Round 4 with a win in the Production 700 Class. On a cold and overcast day constantly threatened by rain Cody lined up against 6 other competitors in the Production 700 Class and a total of 29 in the combined 700/850 race. As the flag dropped for the 700 Class line Cody came through the first turn in second place and the top three quickly distanced themselves from the rest of the class where the order remained set for the first lap. At the beginning of lap two Cody bicycled his car in a turn allowing third place to slip by. He quickly recovered and stayed within striking distance as the top three were never separated by more than 1 second through out the lap. Before this race Fox revalved my shocks and we made a spring change in the rear, after that my car handled so much better, I was comfortable the whole race and knew we had a good chance to win. Since the three of us were running the same pace I decided Instead of making crazy passes to just be patient and pressure the leaders. At the beginning of lap three the order still remained the same with Cody in third and glued to the rear bumper of second place when the leader made a mistake and hit a lapped car. The resulting impact sent her off the track with front end damage and a DNF for the day. Once first place went out my car was working so good that I just kept up the pressure. Said Cody.At the top of lap four with Cody now running in second place current the leader shot off the track after suffering a steering failure and with that Cody set the cruise control and finished out the race with the class win as well as taking 4thoverall out of 29 in the highly competitive 700/850 class combined. Alba Racing hooked us up with some mild engine tuning which made the 570 pretty quick. Now Alba, K&N, American Star, and Cognito, all have new parts for us to try, the 570 is fast but now its going to flat out rip when were done, it's gonna be so fun! Cody and R3motorsports would like to thank the following for their support: Polaris Industries, Cognito Motorsports, UTVunderground.com Team Alba Racing, Benchmark Performance, Pro Armour Black Rhino Performance, Mystik Lubricants, RacerX Motorsports And our personal sponsors Superchips, K&N Diffenbaugh Construction, Frosty BurgerDoug Rahders _R3motorsports_ 619-887-8070 Cody Rahders #816 WORCS Production 700 #16 LORORS SuperLite
Reader Comments (0)
Post Comment
You must login to post comments.