Cody Rahders WORCS Race #1 2013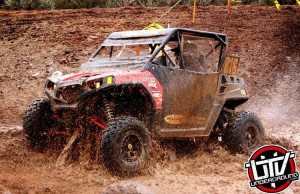 Rahders takes 2nd in his Alba powered RZR 570
Rain, Mud and Rocks = WORCS Race, Round 1 Alba Racing just received the report from Doug Rahders. Read below for the race report. Race Report, Round 1 of WORCS 2013. Easy to summarize, rain, mud, rocks. As the R3 crew made the 6 hour drive early Saturday morning to Peoria AZ for Round 1 of WORCS it never stopped raining the whole drive, it was going to be a long day. While most racers sat out the sighting lap Cody ran it to take a look at what he was in for. After returning to the pits he stated Its going to be bad. I though Glen Helen (Round 1 of 2012) was bad, I wish it was that nice today, its really bad out there, Im so glad we brought the old car and saved the new 570 for the next race. One thing really surprised us when we lined up, no Yamaha Rhinos. Guess the 2012 title winning RZR570 was the last nail in the Rhino coffin. After some discussion of moving up to the 850 class it was decided to stay in 700 at least for the day and see where Cody and the RZR570 were at against both the 700 & 850 classes. At the start Cody rounded turn one in seconduntil the first big stream crossing. We hit that water pretty fast and something got wet, my engine started cutting out and even though it was running bad I could still stay with the leader so I know were good on power. However, halfway through the first lap Cody let the leader go and went into survival mode. The engine would clean up between puddles but after awhile I decided better not break my new engine and just finish. I was trying to keep my speed up, hit something, went off the track and got stuck. I got out, somehow got my car out by myself, and managed to finish in 2nd place. Thats was rough but Ill take it. Round 2 is at Primm NV. It is the only WORCS race Cody DNFd last season so hes looking for a better finish this year. Thanks to all our WORCS sponsors this season; Polaris, Alba Racing, Cognito Motorsports, Fox Racing Shox, ITP Tires, American Star Racing, Black Rhino Performance, RacerX Motorsports, K&N, K1 Racegear, SFI Design,
UTVunderground.com
, and Superchips! Photo courtesy of JoeyD/UTVunderground.com Doug Rahders
Reader Comments (2)
Pheu
08/26/17 04:28:09 PM
We are getting many updates on cody rahder worces race. Lot of teams participated in every race and they got professional cv writing service articles. All the instructions may helps every user to understood the facts.
epae
09/04/17 12:24:25 PM
I can not wait to visit this site really very impressive exams and more college based methods I ever seen here. This My writing expert Qualitative Writing blog always giving us more and great topics with this site.
Post Comment
You must login to post comments.