First Place Finish for Rhino 700
Alba Powered SxS wins Adelanto Grand Prix Race
Larry Carraher took a first place win at the recent Adelanto Grand Prix. Driving his Alba powered Rhino 700 Larry ripped past everyone, taking the hole shot and never looking back. He ran a 15 min. lap time which was 41 seconds faster than anyone in his class, and he was 6th fastest overall which included the 1000 cc clas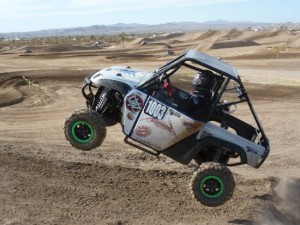 s. Larry is ripping through the course in his Rhino 700 The Adelanto Grand Prix takes you through open desert and then a crowd pleasing moto section with jumps, mud and more.
Reader Comments (1)
It is one of the best article to have first place for finish for rhino. They are all interested in team racing for assignment help uk articles. Then all the people will get and enjoy the blog updates.
Post Comment
You must login to post comments.