Team Alba Racing -
Drive and Suspension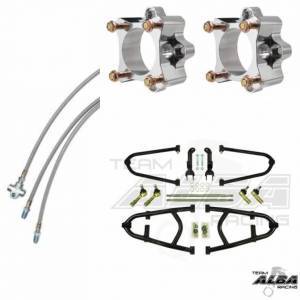 Browse Drive and Suspension
Products
Description:
For your sport ATV (Honda, Kawasaki, Yamaha, Suzuki, Arctic Cat and Polaris) This is for aftermarket brake lines only. It holds the brake lines to the A-arms. • Alba Racing brake line clamps...
More Details »
Description:
Save weight! - Alba spacers weigh 2.2 lbs each. The competitions weigh 3.2 lbs each Each spacer is machined from billet aluminum Anodized finish gives the aluminum extra protection from...
More Details »
Description:
You receive 1 set of 8 spacers. 1.5" wide each for a total of 3" added width to your quad They will fit any quad with 10 X 1.25MM wheel studs - 99% of all Japanese, european, Chinese and...
More Details »